Millboard | Sold exclusively at Muskoka Timber Mills for the Muskoka and surrounding areas.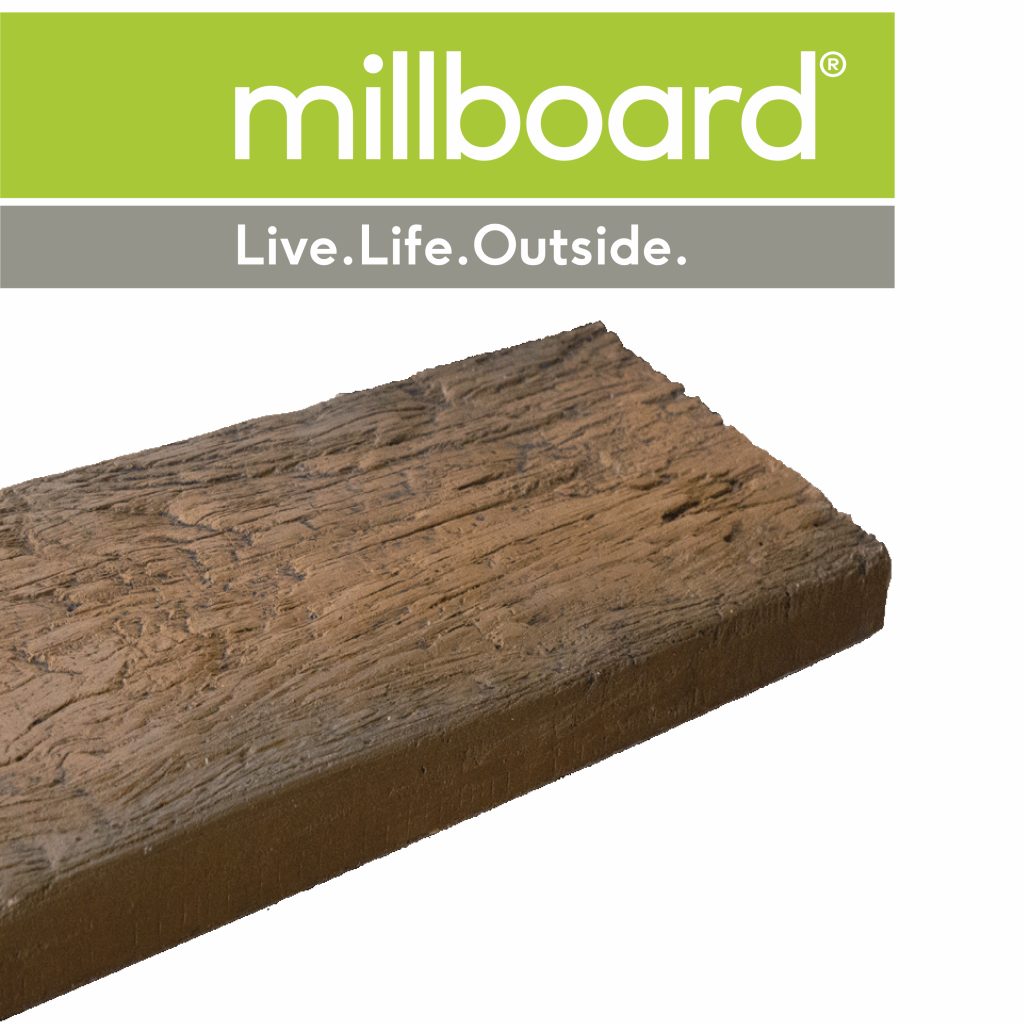 The worlds finest, hand-moulded, composite decking. 
Millboard is sold exclusively at Muskoka Timber Mills for the Muskoka and surrounding areas.
Millboard is the leading wood-look decking, enhancing outdoor spaces with enduring distinction. Hand-moulded from the finest pieces of oak, it boasts refined timber grain that mimics natural timber but is engineered to offer an enhanced decking experience.
Thanks to its unique polymer resin construction, Millboard decking does not deteriorate like natural wood. Additionally, the unique surface provides exceptional slip-resistance, even when wet. Every board is produced using recycled minerals whilst containing no natural timber.
Millboard has several key performance benefits such as slip resistance, sliver resistance, and no exposed screws to give the look and feel of real wood with minimal maintenance! 
Enhanced Grain Collection
Antique Oak
Antique Oak's natural, warm hues are similar to the tones of tropical hardwood and the appearance is reminiscent of attractively aged flooring. Antique Oak boasts more tonal variation per individual board than any of the other colours in the Millboard range, providing a beautiful and organic look.
Brushed Basalt
Brushed Basalt is the most authentic painted-wood-look decking board available. This distinctive option within the Millboard collection is perfect for seamless transitions between indoor and outdoor spaces. Consciously styled to work with interiors, Brushed Basalt's glamorous blue-grey hues are mesmerising and interplay beautifully with other cool and contemporary tones.
Burnt Cedar
A dramatic statement in smooth charred tones. Inspired by the Japanese Yakisugi technique of burning timber to preserve it, Burnt Cedar is the perfect mix of modern and traditional styles. With warm black and brown undertones, Burnt Cedar is a bold showstopper and demonstrates both elegance and decadence in equal measure.
Limed Oak
The look of beautifully sun-drenched timber. Limed Oak has a pale, washed appearance which is the perfect complement to outdoor spaces in sunnier locations. Limed Oak provides a clean and dreamy aesthetic. Its cool and sophisticated presence allows you to create a refined terrace arrangement, whatever your style.
Golden Oak
An enduring, versatile classic. Golden Oak offers the appealing look of newly sawn, natural oak timber, with a light golden hue that retains its stylish appearance over time. Golden Oak's warm tones serve as the perfect backdrop to many different tastes and preferences. Add distinction with this handsome and pleasingly traditional board.
Smoked Oak
A cool, elegant grey, ideal for contemporary and coastal settings. Smoked Oak has a soft-grey hue and browner tones that nod to time-seasoned hardwoods – yours to enjoy without the wait. Its silvery decadence is at once contemporary and traditional. Smoked Oak tastefully complements any outdoor space.
Coppered Oak
An autumnal rich finish with a profound depth of colour. Coppered Oak creates a look reminiscent of high-quality hardwoods such as ipe or teak. Imbue your relaxing outdoor space with the natural vibrance, texture and tone of this russet-brown shade, moulded from smooth, organic timbers.
Jarrah
A deep, burnt-sienna hue inspired by the timber of the native Australian Eucalyptus tree. Jarrah has warm, earthy tones that feel at home in a variety of situations. Bring an exotic sense of luxury to your outdoor space with Jarrah. With its smooth visage and tropical colouration, Jarrah calls to mind remote sun-drenched islands and retreats.
Driftwood
Our Driftwood boards have the incomparable look of sea-washed timber. Driftwood's subtle hue and characterful texture create an easy, relaxed style, ideal for laid-back coastal living. Reminiscent of tidal landscapes, Driftwood creates a bohemian, escapist getaway and works perfectly alongside swimming pools and ponds
Vintage
Achieve the classic beauty of a natural, weathered oak finish. Vintage is styled with darker tones that work perfectly in country retreats, coastal getaways and chic city courtyards. Tastefully aged and utterly timeless, our Vintage colour option adds a stately and refined look to any space.
Embered
Richly textured and dramatically chic, Embered provides a sensational stage or backdrop to a glamorous outdoor space. By combining the look of Japanese heritage techniques with contemporary engineering, Millboard's Embered boards achieve the sought-after style whilst also maintaining stain and fade resistance.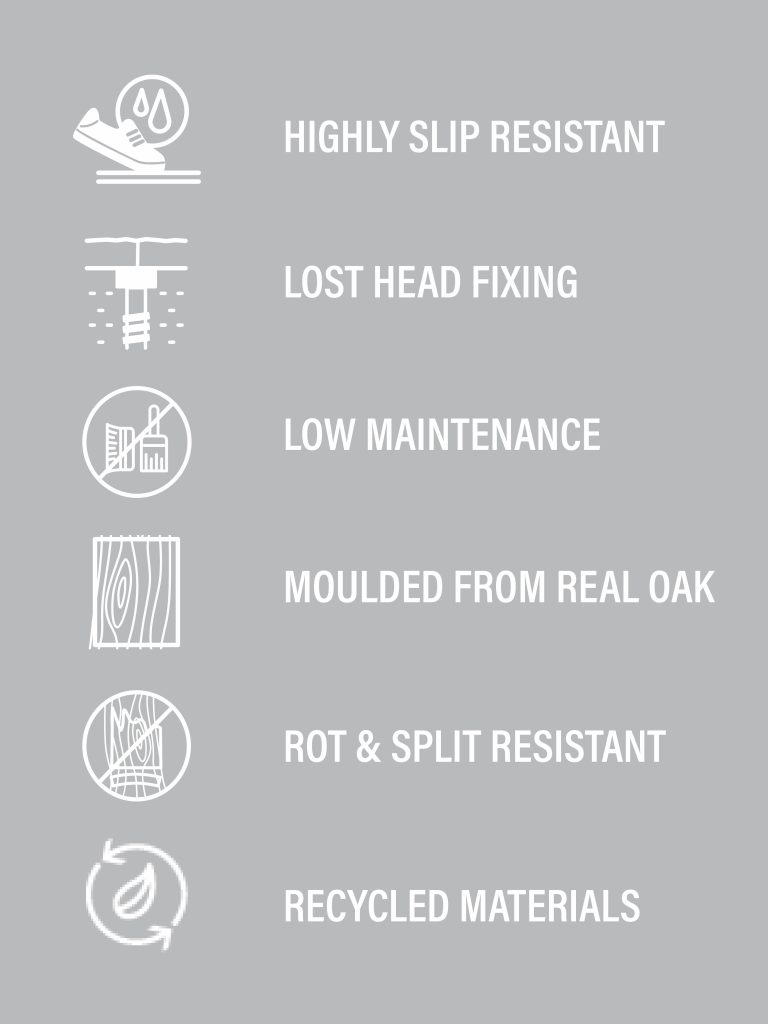 Millboard decking uses a unique material, unrivalled across the globe. Take a closer look at the construction and performance of this stunning yet functional decking. Millboard uses a limestone slurry mixed with a polyurethane component creating a waterproof, durable, and strong product.
Tough
The unique Lastane layer resists scratches and stains and is designed to withstand demanding outdoor environments.
Enduring
The dual-tone Lastane surface is hand tinted using pigments designed to replicate the look of natural timber.
Safer
Millboard is wood-free and non-porous, which means high resistance to algae growth and has excellent anti-slip properties.
Lighter
Our unique, closed 'cellular' internal structure reduces weight while maintaining strength.
Stronger
The structural core is a blend of natural minerals bonded in a polymer resin with long fibre reinforcement for added strength.
Durable
Millboard decking is solid, not hollow. This makes it strong and means it won't warp, rot or harbour insects and pests like timber would.
Millboard is sold exclusively at Muskoka Timber Mills for the Muskoka and surrounding areas. 
Want to learn more or request a sample? Contact us today! (705) 645-7757  |  info@muskokatimbermills.com  
Need to see it to believe it? Come into our showroom and try the boards out for yourself! We have demo kits ready to be used!